digital video
music videos
BALANCED ROCK lead vocalist Andrea Fine delivers the order of Damn the torpedos, full speed ahead! while playing her left-hand bass. Dan Santistevan on acoustic rhythm guitar and John Crawmer
BALANCED ROCK official music video entitled Bite the Bullet showcases the band at the Red Rock Canyon Open Space in Colorado Springs. Shot on location, scenes featuring the band are intermixed with mountain bike helmet-cam footage recorded by drummer Chris Nall during his daring bike ride on a knife-edge rock formation. Better buckle up for a thrilling encounter.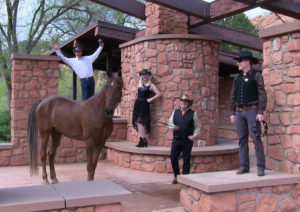 BALANCED ROCK music video Bite the Bullet
video production
imagination meets technology
Videography combined with music, graphics, typography and photography to create unique results.
environmental visualization